Please note:

Following a decision by the Curracag Committee to streamline their online presence an announcement was made at the AGM on 8th February 2017 that this forum will be closing. The date of closure will be the 28th February. All discussion will now take place on the Curracag Facebook group at www.facebook.com/groups/curracag

If you are particularly interested in birds, in light of the Curracag decision, Outer Hebrides Birds has totally re-vamped their website and will now contain details of sightings, photographs, discussion and a number of resources for birds and birding in the Outer Hebrides. Please head to Outer Hebrides Birds where sign up/registration for users is open. As well as sign up using traditional methods OHB also have the facility for you to sign up/sign in using your Facebook or Twitter account.
The weather conditions today looked good for a seawatch at Griminish Point but suffering from a heavy cold the effort to get out there would be too much so I opted for a visit to Aird an Runair instead. On the way to the end a Turtle Dove was distubed from the road and with fairly frequent pulses of light rain it was not until 13.30 hours that I commenced watching from the rocks at the end. There was not that much moving SW and in two hours I had notched up 15 Sooty Shearwaters, 485 Manx Shearwaters and a few other species. The tide was coming in when I returned to the car and amongst the waders being pushed up onto the seaweed banks was a possible Western Sandpiper. Before I could take any photos a Peregrine landed on the beach briefly scattering everything. Thankfully the waders soon returned. After phoning Ian who said he would be about an hour getting to me I wandered over the nearby stubble fields putting up a Buff-breasted Sandpiper. Presumably the same bird was on the beach later when Ian and myself were quizzing the 'Peep'. Western Sandpiper poses a tricky identification problem with Semipalmated Sandpiper.
---
A few more photographs of the birds found by Brian today. It looks as if the bill is long, slightly decurved and flattened at the tip in some photographs plus the black "anchors" on the lower scapulars, all good indicators of western, but as Brian says, these are tricky to positively ID.
The Buff-breasted Sandpiper was a bonus.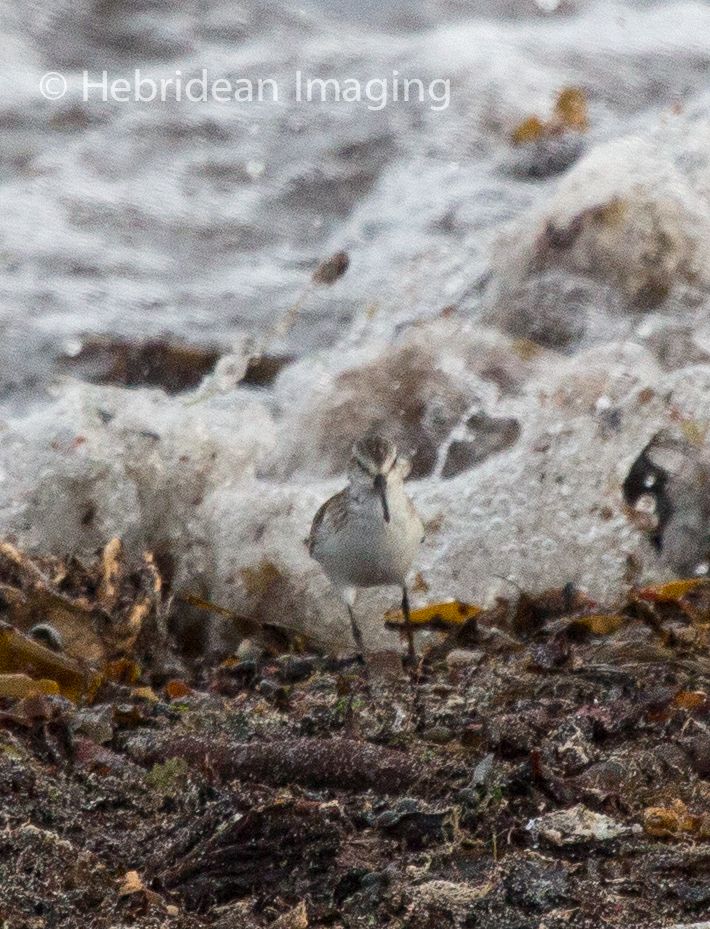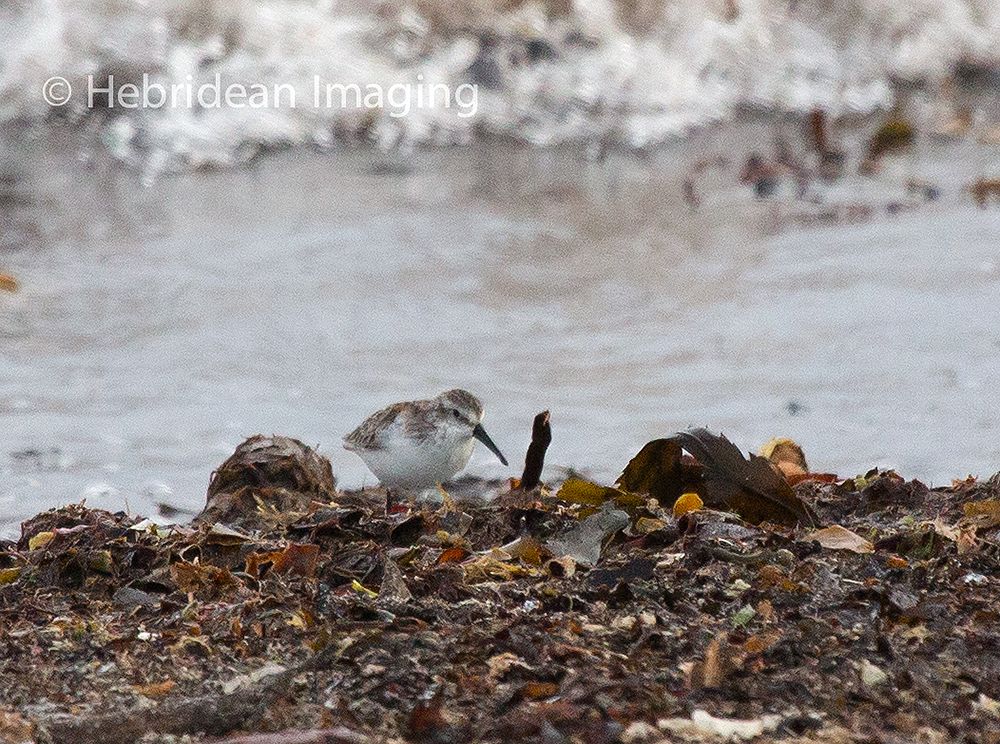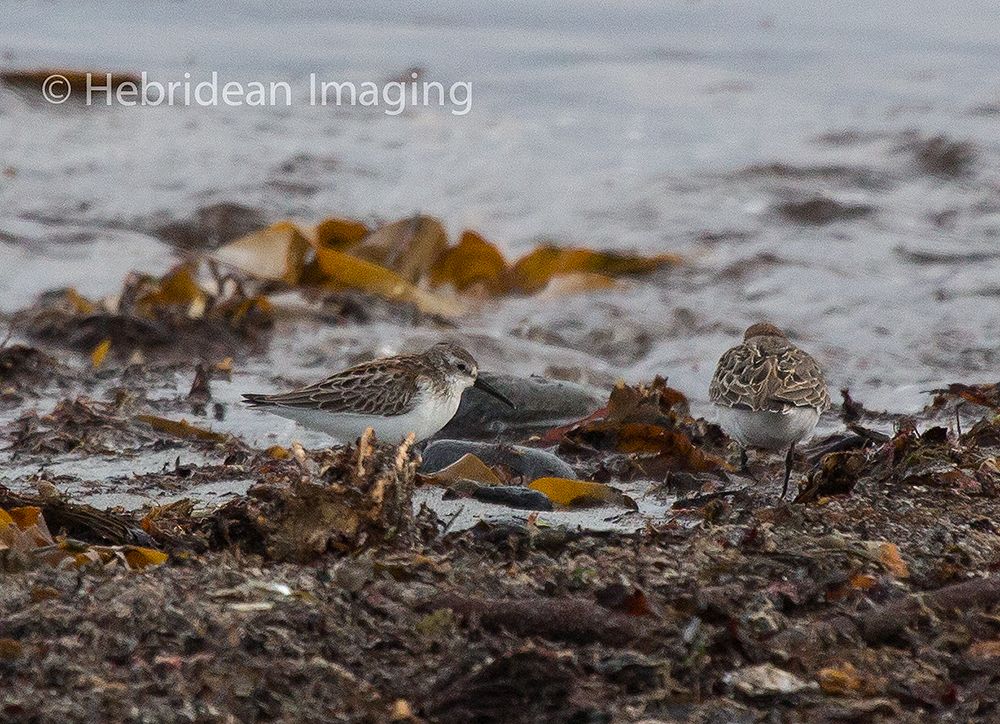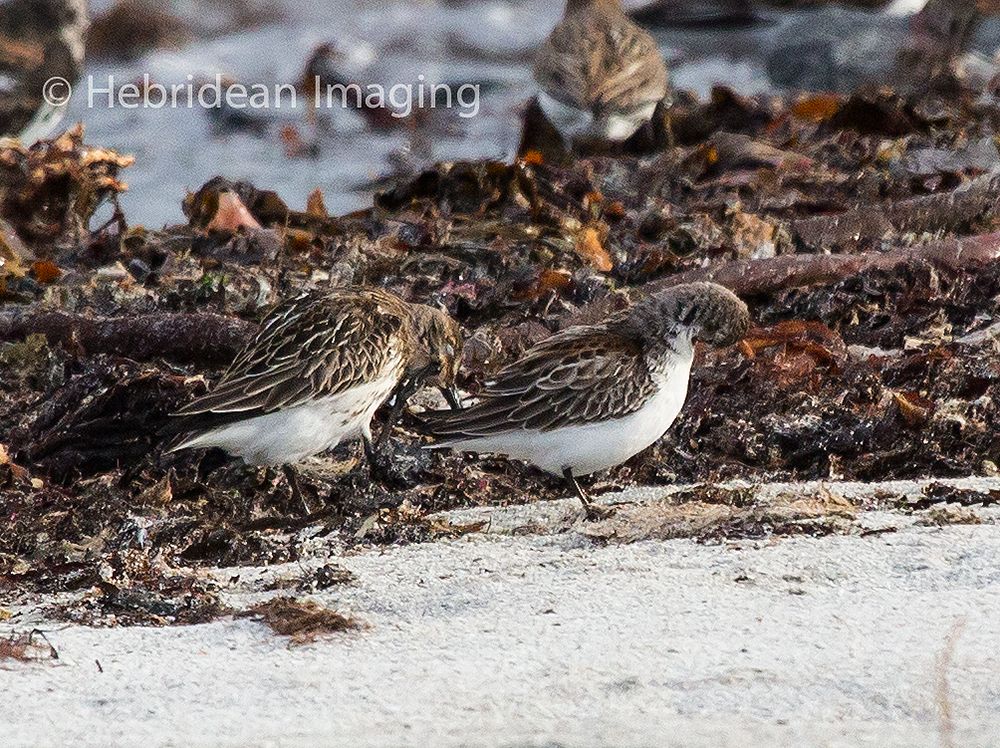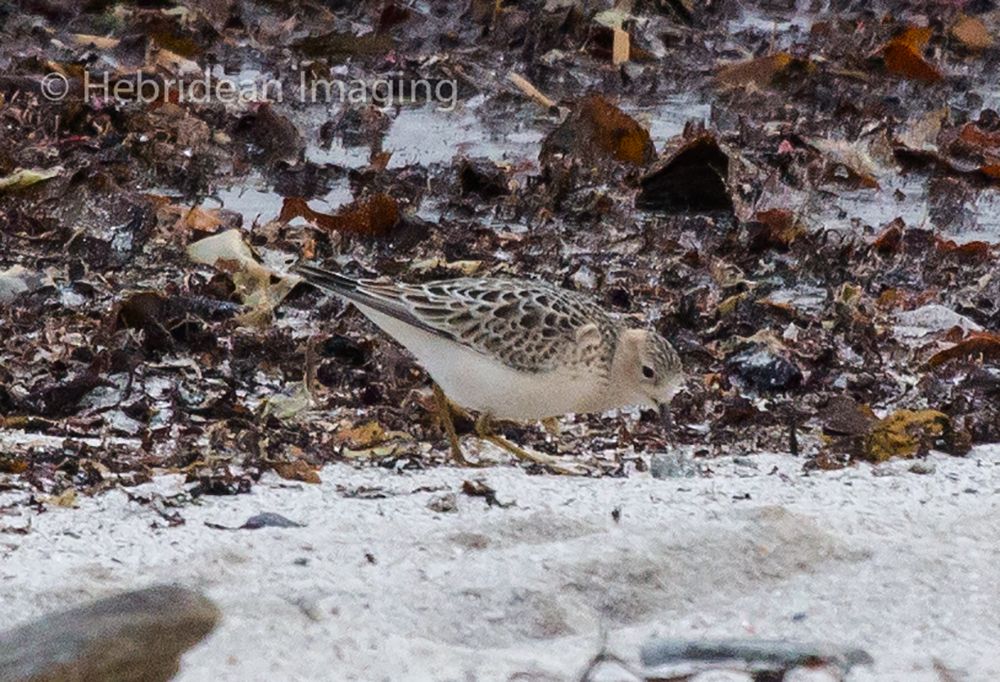 ---
Tony Marr also recorded a Buff-breast today at the Butt of Lewis - 'with a Ringed Plover on the grass by the lighthouse at 07.10 hours. Both flew to the nearby roadside pool close to the road and were still present when I left half an hour later'.
---
Further views of the Western Sandpiper this evening after the rain stopped. Everyone that has seen the photos agrees that it is indeed this species. One chap I met who had dashed up from Derbyshire was doing a years list and with four months still to go had clocked over 350 species. Next stop may be a sandplover seen somewhere or other.

The Aird an Rùnair bird may in fact turn out to be the second record for the Outer Hebrides for a Semipalmated/Western Sandpiper was seen and photographed by Andrew at Balgarva on 4th/5th September 2012. It was suggested in certain quarters that this was the same bird seen in Cheshire for six days a fortnight later. I believe Andrew has been requested by BBRC to submit it as a Western.
---
The Western Sandpiper was still present at Aird an Rùnair this morning and with better light managed to get some reasonable photos with one showing the half-webbed toes. This feature eliminates all stints except of course Semipalmated Sandpiper. The Buff-breasted Sandpiper was also still around in the area to the north of the parking place on the other side of the ridge.

Tony also reported a juvenile Buff-breasted with five Ringed Plovers along the cliff edge half a mile SW of the Butt of Lewis lighthouse yesterday morning (for 25minutes at least). Considered to be possibly a different one to Wednesday's bird although comparison of the photos did not show any obvious differences between the two. The Ringed Plovers were definitely new arrivals.
---
I understand the Western Sandpiper was not seen yesterday so appears to have moved on. As also apparently has the Butt of Lewis Buff-breast although a day later. Tony's photo attached.
Toby Green (leader of Hetherlea birding group) mentioned seeing a couple of good flocks of Black-tailed Godwits yesterday - 95 and 125 (Benbecula and South Uist - not sure which island hosted the largest). Also a few Ruff have been seen, a Curlew Sandpiper and a couple of Little Stints.
---
Who is online
Users browsing this forum: No registered users and 1 guest